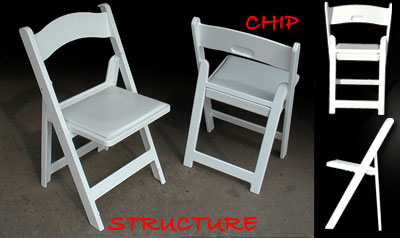 RESIN FOLDING CHAIRS
CHIP & STRUCTURE Chair
Benefits:
special resin mix for strength, durability and light weight.
color is consistent throughout entire chair - looks nice longer
No sanding or painting needed - low maintenance costs
Features:
Maximum strength, 100% premium special resin mix construction for long life
Maintenance free finish for better looking chair
Non-stick & anti-static treated for easy cleaning
UV protected to prevent fading & discoloration
Available in White, Black & custom colors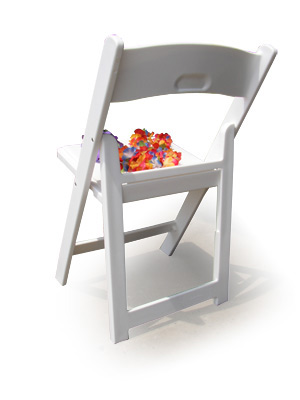 Drake's high strength resin folding stacking chair combines classic elegance with unexpected durability. Thanks to a special resin mix, this is the strongest and lighter at the same time folding wedding chair available! Drake Chip and Structure chairs are perfect for use as dining chair or for any special event where the classic look is desired.
BUY NOW HERE!!!!
MATERIAL


The material used at Drake's, a composite multi-layer techno-polymer, allows the manufacturing of special event resin chairs that are the strongest (tested at 500lb.) and the lightest (10lbs, only) at the same time on the market.
STRUCTURE chairs are manufactured with a TWO COMPONENT RESIN (CO-INJECTION) system, while CHIP chairs are manufactured with a TWO COMPONENT RESIN (CO-INJECTION) plus GAS system - the highest standards in plastic manufacturing.
The result is an outer, smooth all weather resistant aesthetic skin, and an inner expanded closed cell modified resin with high mechanical resistance that behaves like a bone and gives exceptional strength to the chair.


Optional Chair Cover


Item# 3CH10NYL-Y • Nylon Cover for Folding Chair.
Stack covers, provide a storage solution to keep chairs clean, and protect them during transportation.
Strapping on the cover secures the chairs to the pallet during move in and out operations.
Zipping eases-up covering the chair stacks.
This Nylon,with inner PVC coat heavy duty water resistant chair stack cover, for transportation and storage is taylored for 2 stacks of 5 Chiavari chairs ea. back to back.
Best used with Drake Chiavari chair pallets


Optional Folding Chair Pallet


Item# 3BaseDR • Highly resistant chair pallet in tech ABS, 3/32" thick.
Capacity up to 30 folding chairs or 300lb. of distributed load.
It can be used with both pallet jacks and Mongo movers.
Best used with Drake covers. A chair pallet is essential to protect the first chair of the stack and eases up stack handling.
Strap chair stack to the pallet before handle it.


STACK OF 25: h=58.5"
STACK OF 30: h=70"
STACK OF 50: h=117"

CHAIR DIMENSIONS
Both Structure and Chip resin chairs are folding, stacking (horizontally and vertically), and come equipped with an interlocking feature that makes moving and storing them quite simple. They are strong, durable, weatherproof, UV protected, don't need painting and require very little maintenance. Our chairs can be used with chair washing machines.

flat chair dimensions:
17 3/8" x 35" x 2 1/3"
net weight:
10 pounds including padded seat.